---
WANT TO ATTEND A LIVE EVENT?
---
SEE BART BAGGETT LIVE IN INDIA THIS WEEK!

Mumbai, India.

"One Day Handwriting Intensive".
July 22nd, which is this Saturday.
Sponsored by THE WORLD SCHOOL OF GRAPHO EDUCATION & THERAPY,
Tickets Still On Sale: Contact Dr. Parag Khatri. Mobile No .0 98211 50555
---
You can also...
Listen to live interviews...
Attend upcoming teleclasses...
And get information on our next seminar here...
---
COMMENTS FROM READERS...
---
Here's what readers are saying about Bart's latest book...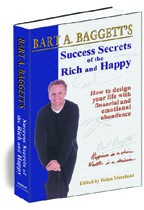 Success Secrets of the Rich and Happy!
"Ohhhh, I'm glad to see someone finally put a positive spin on being rich! This book is a delight---inspiring, practical, and down-right fun! It can move you into the wealth you seek."

–Joe Vitale, author of "Spiritual Marketing" and the Nightingale-Conant best-seller, "The Power of Outrageous Marketing"

"One of the most comprehensive, fun, easy to read, and effective Self-Improvement books ever written. Anyone that isn't richer and happier after reading this book... didn't really read it at all."

– Verena King

www.myhandwriting.com/ssrh.html
---
DISCOUNTS!
---
Check out this great tele-class to help you...
DOUBLE YOUR INCOME...
...with Bart Baggett!
www.handwritinguniversity.com/classes
---
CONTACT US TO LEARN MORE:
---

Bart Baggett, Author and Lead Trainer
Maryann Redhead, Director
HandwritingUniversity.com
1-309-266-5373
admin @ myhandwriting.com